The Minimalist Guide to Running Your Own Massive Open Online Course.
Have you ever signed up for a MOOC course?
 An online course with hundreds or thousands of participants ?
A course with multiple speakers and presenters ?
A course with video recordings and forum discussions ?

If so, have you ever wondered how the organizers pull it all together?
Having helped organize some MOOCs and having presented at others, I've seen aspects of what can work seamlessly and what can block the flow of collective momentum in massive online courses. It seems to me that less is definitely more. What this actually boils down to is the fact that being too tech-savvy with regard to clunky technology, being overly-immersed in the complications of traditional learning management systems, and neglecting to simplify the complex can work against the flow of events and block the necessary synergy it takes to keep the ball rolling.
This doesn't mean that we shouldn't be tech-savvy, use learning management systems, or be deeply invested in the beautiful complexities of group dynamics online; but it does mean that we've got to remain one step removed from the 'The Plan' in order to simplify the complex and remain fully aware of interpersonal dynamics and peer-to-peer influence through multiple perspectives.
It's all a matter of physics, psychology and practicality.
The physics of momentum: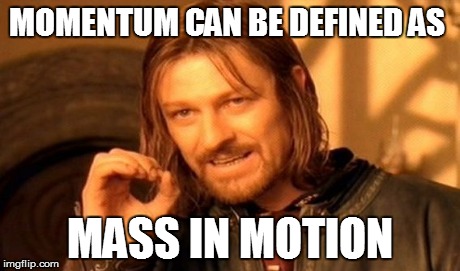 We want to keep our massive courses in motion by building up and maintaining momentum. This is where technology must intuit learner behaviour as opposed to inhibiting learner behaviour.
The character Mr. Spock in Star Trek had a wealth of knowledge but operated via logic and not emotion. Should our use of technology in any way block the emotional aspects of communication, then we 'Spockify' interaction and kill momentum.
When technology sticks or gets stuck we lose momentum and communication stops.The verb and the noun as used here act as disruptive forces against the physics of momentum.
The adjective, however, is something else. The adjective 'Sticky' in social media terminology means attractive and irresistible with viral implications and possibilities. It is, in fact, it's own paradox. The original meaning of the word is that of being stuck in place and time, while the social media connotation is that of moving, spreading and creating that lovely momentum we need for our courses.
We have two variables in momentum.
How stuff is moving and how fast it's moving
(Jenkins,H).
In this situation the 'stuff' is knowledge and ideas, and speed refers to 'speed of delivery, dissemination of ideas, and speed of resulting creativity through 'ecologies of talent', (Kleon, A 2014).
If:
Stuff + speed = momentum
Then:
Knowledge + social sharing = momentum.
Therefore the success of a MOOC depends on it's velocity (speed of dissemination of ideas, and speed of communication).
Speed depends on fitness levels, and fitness can only be achieved through a slimmed down body.
Therefore MOOCs that build up, maintain and consistently increase velocity as time goes on, are slimmed down, minimalist models that facilitate inspired learning and sharing through a mixture of sticky presence and lightness in execution.
Henry Jenkins of 'Confessions of an Aca-fan' says:
"If it doesn't spread it's dead"
Here's his great resource describing two crucial and simple paradigms for momentum that we can apply to MOOCS.
The psychology of momentum:
For course participants to feel motivated, they need ease of communication, flexibility, encouragement, a feeling of empowerment, and peer-to-peer validation.
In that sense, lecture-style MOOCs don't work. Live online presentations should not have an overly top-down approach and the asynchronous aspect of the course with discussions and assignments should give all the power to participants and facilitate as much peer-to-peer synergy as possible.
The whole psychology behind inspiration, social intelligence, social proof and learning relationships is too vast to cover here, but it should be clear that excited learners share, care and are inspired to create….and share again. The psychological language(s)  of the MOOC are intellectual, social,  emotional, evolutionary, and……with momentum, revolutionary. These multi-psycho-linguistic intelligences power the 'ecologies of talent' that will go on to make the MOOC immortal, viral and meaningful.
The Practicality Of Momentum:
When the physics and psychology are right, the practicalities become clear.
You need:
1)Technology.
2) Stuff
3) People
1) You need somewhere to upload materials and design courses. This has to be simple for the course designers and organisers and user-friendly for course participants who need to access the course content.
WiziQ has created a new course delivery system which incorporates all of the above.
It's designed to have everything in one place and also takes care of announcements to course participants.
The idea is that this slim course creation model can help you to have your course up within hours…provided to have the 'stuff'. (course plan and content)
To see how it works you can enroll in one of the free MOOCs and access the content libraries to see lessons, course materials, class descriptions, forum discussions, and to see how it all fits together.
These are three  MOOCs you can test:
Teachers Teaching Online

Moodle MOOC 4
You can also request some demonstrations and information from Jason.R.Levine. The more questions you ask, the easier the whole thing will appear. As WiziQ has a new policy of helping teachers to get established online, there are many incentives to ease the learning curve. See this VIDEO for information.
Also, here is a new proposal to encourage those of you with great ideas to get on board with full support from the WiziQ platform.
If you need extra encouragement in trying something new, you can check out our recent Eduhero articles:
This year be an eduhero by Shelly Terrell.
and
Why professional development should be child's play by Sylvia Guinan
As there is always room for improvement, you are invited to contact the WiziQ  support team,  Jason or myself with complaints, suggestions or ideas.
You also need personal back-up of your work, synchronous file sharing solutions and easy email access to people, so I believe that you should integrate gmail and google drive with the main MOOC home of your choice. As you gain experience and confidence, you can slowly start adding nice tools such as  google apps for tracking projects etc.
2) Your Stuff:
(Software and multi-media to create your content.)
This is a personal choice and depends on your aims. Most people with slimline, sticky courses combine power point with some video instruction to reach learners quickly and easily.
Others, including myself, like learning about the latest web tools and experiment a lot. Yet, these tools must be user-friendly, serve the purpose of the course with razor sharp focus, and/or be used as simple learner tools. The overall goal is still a slimline, sticky course.
While overly-complicated technology will turn most learners off,  you can feed in web tool choices, let learners explore their own technology preferences, and provide them with lovely visual libraries of multi-media tools through the archiving possibilities on web pages such as Tackk or Pearl trees.
It not that we must shun complex tools but that we should always know how to simplify the complex and harness light technology in the name of speed, motion and momentum.
3) People
You can't run a MOOC as a one-man or woman show. Even those who are solo MOOC owners need facilitators, presenters and particpants to make it happen.
The great paradox is that while we need masses of people and many different relationship dynamics going on simultaneously, we still want to have a minimalist model; we want to manage the MOOC with minimal effort and maximal outcome.
Too much effort cause burnout, confusion, frustration and strangled momentum. Therefore the path of least resistance is also the path of maximal outcome.
MOOCs are social by nature and we have the miracle of social media and the world wide web at our disposal to harness the collective social machine of humanity. It takes time to really get your finger on the pulse of social tends and behaviours; yet it's also something quite simple in essence and we are focusing on simplicity.
By sharing the heart of your MOOC across social networks you'll attract the right presenters, participants and all who wish to learn, grow and work with you.
You've got to embody the OPEN in MOOC. Open heart, open mind, open network. You've got to feel the 'we' of connectivity and care about participant needs. I have found myself inspiring 'ecologies of talent' (Kleon, A 2014) through my honest appreciation of the great minds that form our MOOCs and come to hear us speak.
In order to showcase this talent, we  are now featuring guest blog posts on WiziQ from MOOC participants. So many inspired educators have started blogging through our MOOCs or through Shelly Terrell's caring movement called "30 Goals Challenge".
Here's an example from our first guest blog post for MOOC participants. If you have already signed up on a WiziQ MOOC  and want to submit an article, you can contact me here.
If you are interested in the Edugoals, you can learn more about it here and on Shelly Terrell's website.
The essence is the same:
Caring, sharing, encouraging, validating, recognising talent in others and appreciating that talent as if it were your own.
This is also a fascinating area beyond the scope of this introduction, but my next article will be about 'sharing your work and making social media work for you'.
Stay tuned and thank you for reading.
Please share your thoughts below.
References:
1)"Ecologies of talent' – coined phrased by Kleon,A, (2014),  "Show your Work", Thomas Allen & son limited.
2) Experience;)